welcome to our practice
At Oakville Dental Care, we're here to help you maintain a healthy, strong, and sparkling smile. Our experienced doctors provide a full range of general, cosmetic, and restorative dental procedures in a family-friendly atmosphere, designed to put everyone at ease.
Whitening for a Wish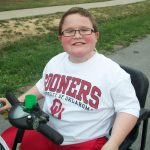 Zachary is an 11 year old boy from Arnold, MO who has been diagnosed with Duchenne Muscular Dystrophy. His wish through the Make-A-Wish Foundation is to travel to California in an accessible RV.
Help Oakville Dental Care make Zachary's wish come true by taking advantage of our $149 In Office Whitening Promotion. All proceeds will go towards granting Zachary's wish. The offer is open to both patients and non-patients. Call our office at 314-487-0333 to schedule your whitening appointment today!

Brighter Smiles Program
Click here to learn more about our sucessful Brighter Smiles Day

Dental implants
Learn about options for replacing one or more teeth.