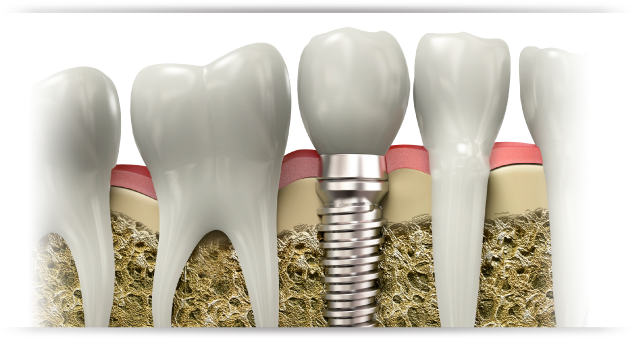 implants & implant dentures
Missing teeth no longer has to mean missing out. Modern implant dentistry can give you strong, permanent replacement teeth that look and function almost like new.
Every implant procedure consists of at least two parts. The first is the implant itself: a titanium post that is anchored into the jawbone, replacing the missing tooth root. The second is the restoration, which could be a crown, a bridge, or a row of replacement teeth (also known
as implant dentures).
Unlike conventional bridges and dentures, which rely on adhesive to stay in place, implant restorations are held in place by dental attachments that are secured to one or more implants. They do not slip or move around, and they either snap in place or are attached permanently, depending on the type.
A regular dental implant is essentially a replacement tooth. The crown portion can be brushed and flossed normally, and the color, shape and position make it indistinguishable from natural teeth.
Because implants replace the tooth root, they also help prevent bone loss in the jaw, which is a side effect of missing teeth.
Implant procedures can be complex, and often require additional treatment such as bone grafts or periodontal therapy. But, they remain the best way to restore missing teeth while maintaining the overall health of your mouth and jaw.