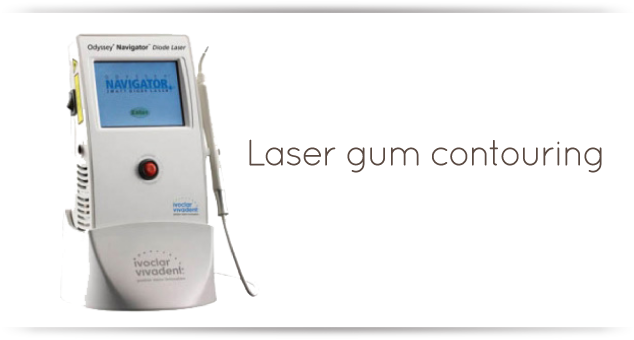 a laser-fast fix for uneven
or "gummy" smiles
If you have a crooked gum line or have too much gum showing, these imperfections can detract from the beauty of your smile. A "gummy" smile can be inherited, or develop as a side effect of certain medications
or health conditions.
Laser gum contouring can quickly remove excess gum tissue, as well as even up tissue on the gum line. The procedure is fast and relatively painless, as is the healing time.
We perform gum contouring using a state-of-the-art diode laser, which vaporizes gum tissue with pinpoint accuracy. Though many patients choose this procedure as part of a total smile makeover, a quick gum contouring can be all you need to get a gorgeous smile.
If you're the nervous type, we also offer free nitrous oxide sedation for our gum contouring patients.